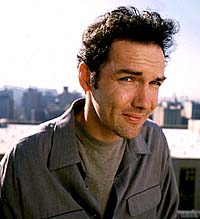 As you may or may not care,
I'm a huge fan of the 70's game show Match Game
, so I was happy to learn that a new pilot for TBS is happening. I hope it works. The reason it worked so well in it's hey-day was because of the chemistry orchestrated by Gene Rayburn and the the celebrity guests. Norm MacDonald and Sarah Silverman ( two of my favorite comedians) have signed on which gives me great hope.
Here is the full story(reprinted without permission of course):
Silverman, MacDonald spark to "Match Game" redo
By Kimberly Nordyke
Thu Jun 19, 9:30 PM ET
LOS ANGELES (Hollywod Reporter) - Is Sarah Silverman the new Brett Somers? Could Norm MacDonald be the next Richard Dawson?
The comedians have signed on to be on the panel for

TBS

' updated "Match Game" pilot, shot this week in Los Angeles. Also taking seats are Bob Einstein, a.k.a. comic stuntman

Super Dave Osborne

, Kids in the Hall trouper Scott Thompson,

Rashida Jones

("The Office") and Niecy Nash ("Reno 911!").
Andrew Daly ("Semi-Pro") hosted the pilot for the cable channel.
"Match Game," in which contestants try to match missing words in a given phrase with a panel of celebrity guests, originally debuted in 1962. Several incarnations followed, and the format reached its naughty heyday with the Gene Rayburn-hosted version in the 1970s -- once the questions were tweaked to allow for a generous amount of double-entendre humor.
The game is played by two contestants and a panel of six celebrities. Each contestant attempts to match the most celebrities in a series of fill-in-the-blank questions, such as "Sam is so short, he makes _____ look tall."
Along with Somers and Dawson, Charles Nelson Reilly was another longtime regular on the show. Other panelists over the years included Vicki Lawrence, McLean Stevenson, Betty White, Orson Bean, Fannie Flagg and Nipsey Russell.
The most recent version of "Match Game" ended its run in 1999. Reruns air regularly on cable network GSN, effectively exposing younger audiences to the format.
Reuters/Hollywood Reporter